Can I pull reports from my Hireology account?
Hireology offers seven reports from within your account to help you gain a deeper analysis of your candidates and hiring process as a whole. Only users with Admin permissions in your account can access Reporting.

To start, click the 'Insights' tab from your navigation bar.


Click on 'View Legacy Reports' to the right. 
The
Dashboard
gives you a glance into what is going on in your account. quickly see candidate sources and applicants added over the past 30 days.
The
Candidate Status
report allows you to see a list of all candidates that have applied to every job in your account in a given date range. This is your catch-all report. You can export a spreadsheet this list to send to payroll, see how many candidates you have in a given stage of your process, or which candidates came from a specific job board, this report has you covered.
With all reports, you can select a specific date range, hiring manager, or job you would like to focus on.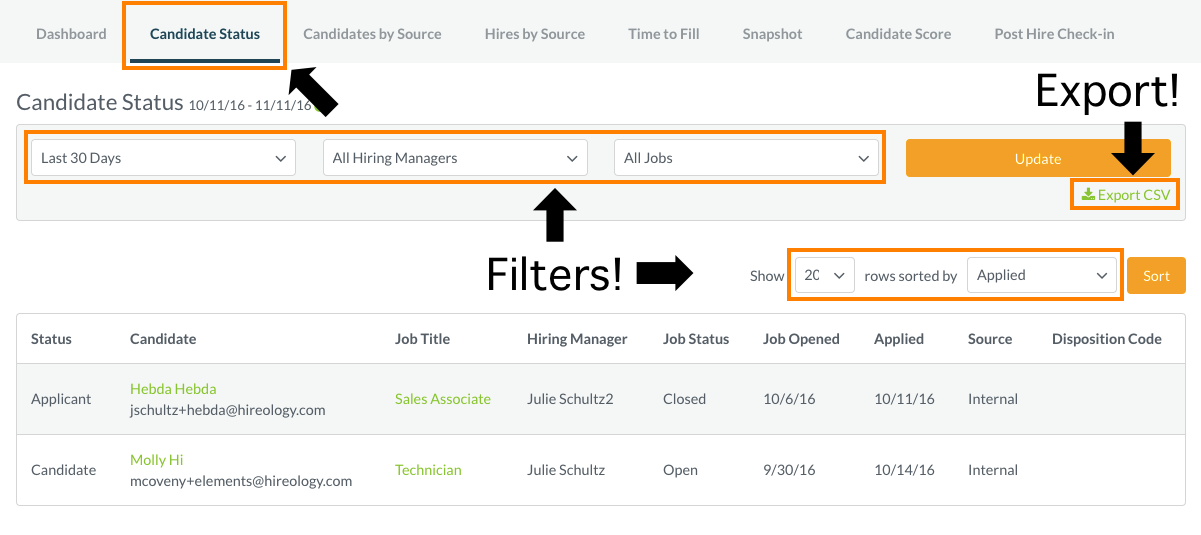 The
Candidates by Source
report displays all your sources of applicants and the performance of each source. Use this report if you'd like to understand where candidates are finding your jobs or if you were thinking about where to post next.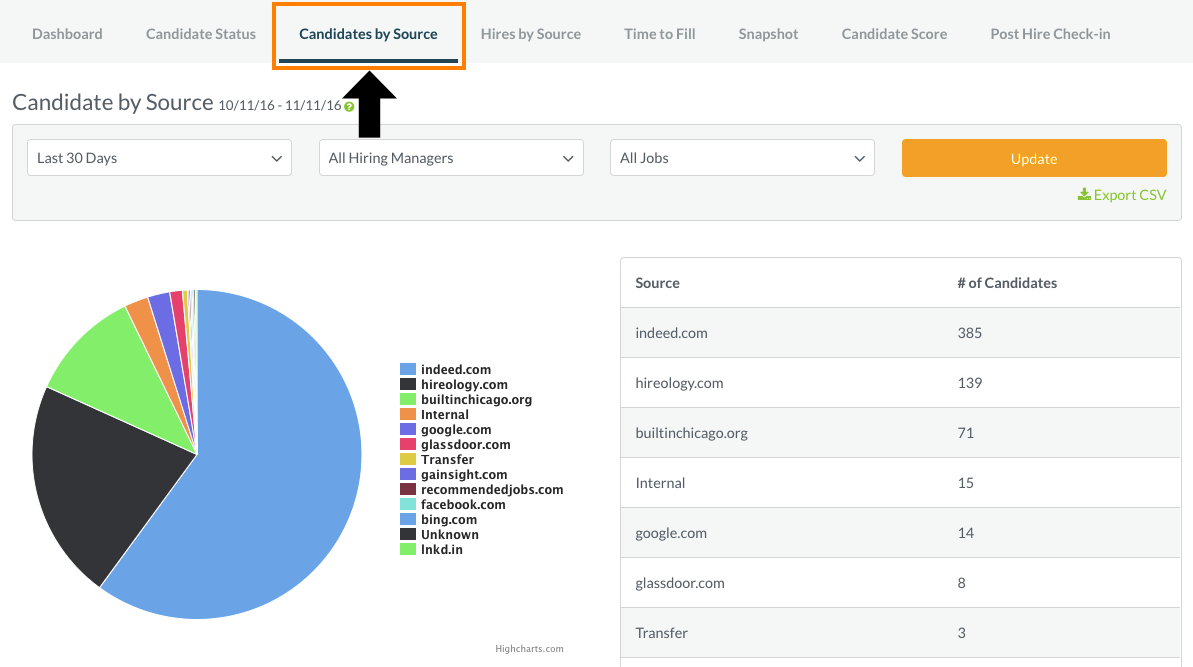 The
Hires by Source
report displays where your hires came form. This is a good way to understand where the people you've hired are finding your jobs. Take this into consideration when you'er thinking about where to post next. In order to get the most value out of this report, you need to remember to click the hire button on the candidate page.
The
Time to Fill
report shows a list of all hires you've made over the last 30 days. If you want to understand how much time it's taking to fill openings or if you're interested in giving candidates an idea of how long your company's hiring process takes, this report can help. As is true with hires by source, remember to click the hire button to get the most value out of this report.
The
Snapshot
gives you a list of all jobs that are currently open in your account. If you're interested in a high level view of which jobs are the closest to being filed or if you're wondering where your hiring process is getting stuck, take a look at this report. Keep in mind this report does not count the number of candidates that have ever passed through a phase in your process, rather it gives you the number of candidates that are currently in each phase at this very moment.
The
Candidate Score
report is a list of all candidates that have applied to all jobs in your account during a give timeframe and their scores on your hiring steps. If you'd like to understand who your best scoring candidates were across all jobs, calculate scoring averages or compare interview scoring trends across hiring managers, head to this report.
Finally, the
Post Hire Check-in
allows you to track your new employees' progress 30, 60, and 90 days post hire. By reviewing this report, you can easily tell whether or not you and your hiring managers are making the types of hires you need in order to push your business forward or if a specific hiring manager is falling short on their recruiting efforts. This data is derived from a short, three question survey sent to the hiring manager for a job or set of jobs every month for the first 90 days after you've hired someone. Again, you must click the 'Hire' button for this report to begin building data.
Last Updated: 11/15/2017