How do I customize the application?
At any point in the process, you can make edits to or create a new application to use for future or current jobs.

Step One: Click on the 'Hiring Steps' page from the navigation bar at the top of the screen.





Step Two: The page defaults to the 'Applications' tab. Find the application you would like to customize and edit then click on the Name. Click the 'Edit' button to begin.





Step Three: Off to the righthand side of the page, you will see a list of categories from which to choose in order to build your application.  You can choose fields from one or all of the categories and everything in between.




Step Four: Each category will produce a different set of fields from which you can choose.  If you would like to include a field in your application, click into the check box.  A green check mark will appear, letting you know this field will now appear on the application. 

If you would like to require a certain field, click into the asterisk box.  An orange asterisk will appear, letting you know this field is now required.

Fields that are not currently selected will be grayed out.




Once you're satisfied with the application you've created, click the 'Save & Close' button to move on.





The new application form will then appear in the Hiring Steps tab on the settings page of your account.

The next steps in this FAQ will walk you through how to attach you new or revised application to your Hiring Process.

Step Five: Now that you've created/updated your application, you will need to add it to your job.  To start, click on the 'Jobs & Candidates' tab from the navigation bar at the top of the page.






Step Six: Click on the 'Edit' icon for the job you would like to apply your new application to.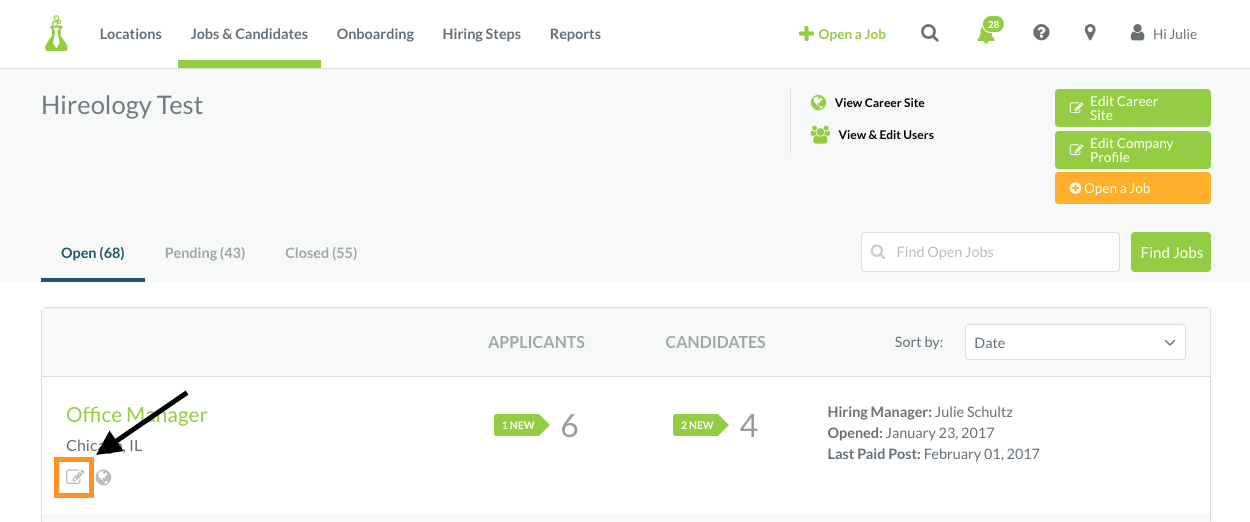 Step Seven: Click the 'Next' button to proceed to the Hiring Steps page.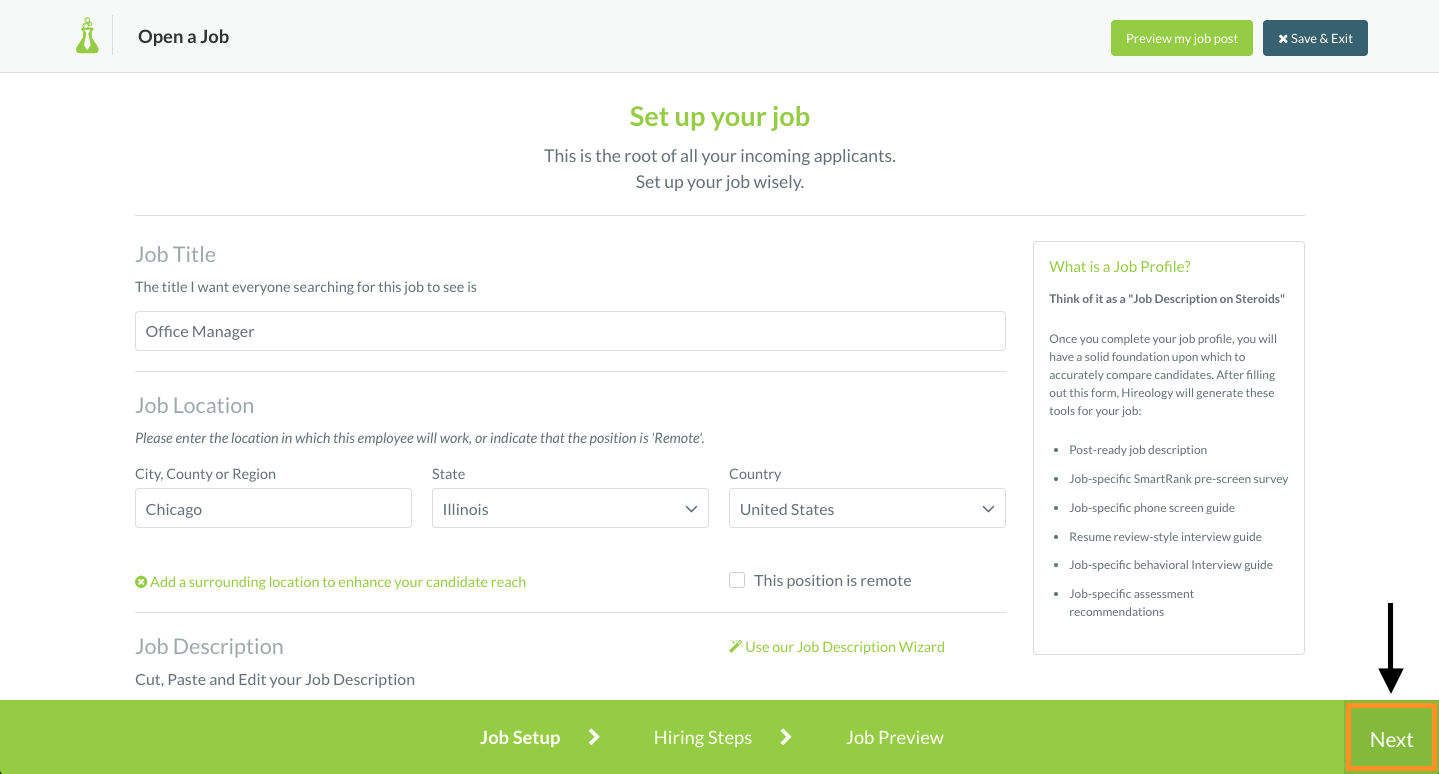 Step Eight: To add this application to your job, click the downward arrow and select the application you would like ot use from the dropdown menu. Click the 'Save & Exit' button to complete the update.

Any applicants that applied to this position before the update will maintain the old application. Any new applicants that apply after the update will use the new application.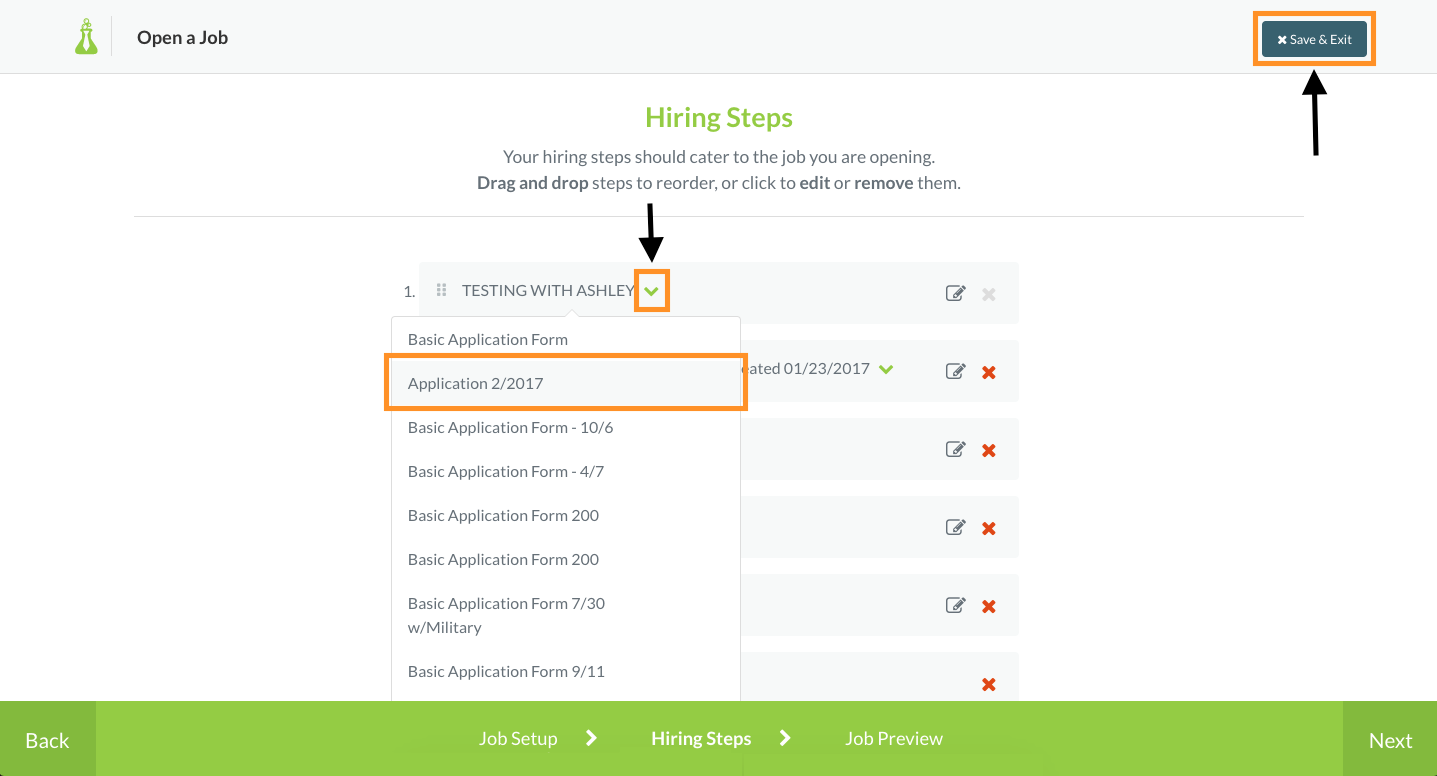 Check out our how-to video here.



Last Updated: 8/22/2017