How do I know if a candidate's reference check has been completed?
Regardless of the minimum number of references you have requested for your candidate to enter, you will receive an email notification once the candidate has received two responses back from their references, with one of those responses being a manager.

At that time, you can choose to finalize the SkillSurvey report right from the email or, log into your Hireology account to click the 'Finalize' button.

IMPORTANT NOTE: You will only be able to finalize the report one time.  Once you get the notification email that the report is ready to be finalized, you can either wait to see if any other references respond or finalize as-is.

ACCOUNT
EMAIL
After you click the 'Finalize' button, you will see a pop up with a link to download the report.  Click on this link to populate the report in a separate browser tab.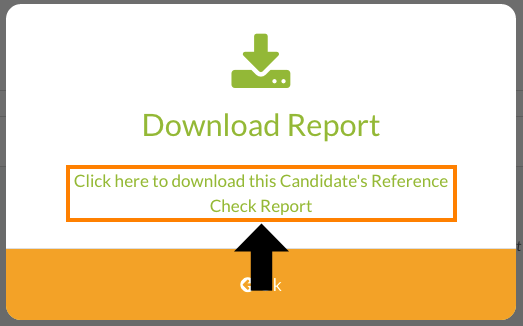 Regardless of whether your finalize the report in your account or through your email, an additional tab will open in your browser window with the results for you to review.
We do give you the option to save or print the final report, however, the results will be permanently stored in your Hireology account.  You can view them at any point after the finalization by clicking the 'View Report' button on the status page.

Your Selection Manager will also update with the candidate's overall score.  This will give you a quick indication of how the candidate's references scored them overall.
Last Updated: 11/27/2017